The Graduating Class of 2008
Members of the second graduating class of the Pastoral School of the Diocese of Chicago and Mid-America were awarded diplomas by His Grace Archbishop Alypy following Divine Liturgy on Sunday July 27, 2008. The graduation ceremony took place among family and friends of the graduates in the Cathedral of the Protection of the Mother of God in Des Plaines, Illinois.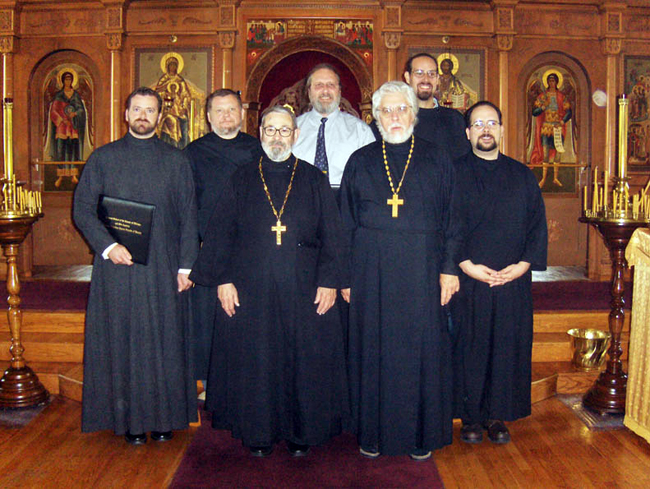 On the previous day (Saturday), the candidates took their oral examinations, during which their dissertations were judged and their knowledge of various theological disciplines were verified. The Examining Committee—presided over by His Grace, Peter, Bishop of Cleveland and President of the School, also consisted of Protopriest Andrei Papkov (Vice-President of the School), Protopriest Martin Swanson (Dean of the School), and Priest Gregory Joyce (Instructor in Dogmatic and Pastoral Theology)—found the candidates' knowledge satisfactory and authorized them to receive the appropriate diplomas of graduation. This year, diplomas were issued to: Subdeacon Victor Ganson (Boston, MA), Subdeacon Michael Merren (Rockford, MI), Subdeacon Silouan Hoefler (St. Louis, MO), Reader Andrei Vlassenko (St. Louis, MO), and Mr. James Whitacre (Jamesburg, NJ). On Sunday, after the conclusion of the Divine Liturgy, His Grace, Archbishop Alypy of Chicago & Mid-America, presented the diplomas to the graduates, following which "Many years!" was sung for them.
The School was begun by the Diocese in order to provide pastoral education for those who because of family, work or other obligations are unable to attend residential pastoral studies programs. In this manner the School complements other programs by helping to fill the need for qualified clergy to serve the Church.
The Pastoral School consists of a two year academic program which allows students to take classes at home online during hours that fit their life situation. The program offers two diploma options, one in Pastoral Theology for candidates for the clergy, and another in Orthodox Studies for those wishing to serve the church as theologically educated lay men and women. All applicants to the School must have satisfactorily completed at least 60 credit hours of course work from an accredited college or university. The Pastoral School is authorized to grant diplomas by the Illinois State Board of Education and the Illinois Department of Business and Vocational Schools.
Those who are interested in applying to the school or in obtaining more information should go to the School's website at: Admissions Information